John Perkins COLLECTION at the Global Dialogue Center!
"When 9/11 struck, I had a change of heart. I knew the story had to be told..."

A Game as Old as Empire:
The Secret World of Economic Hit Men and the Web of Global Corruption

by Steven Hiatt (Editor), Introduction by John Perkins

John Perkins introduces this new book. Through detailed confessions and hard facts and figures, A Game As Old As Empire unearths the truth about what is really going on in the world. Each chapter focuses on a particular case, detailing the methods used to deceive, steal, corrupt, and coerce.

Confessions of an Economic Hit Man
After twenty-nine publishers declined, San Francisco independent publisher, Berrett-Koehler brought John Perkins' message to the people of the world in late 2004. With over 180,000 copies sold, Confessions of an Economic Hit Man rapidly soared to many "best lists," including a lenghthy stay on the NY Times Bestseller list, fueled primarily by word-of-mouth. It was also nominated for the prestigious QUILL AWARDS, named in TOP 5 finalists in Business Category and for BOOK OF THE YEAR.

What's here?
This is a gateway to everything that is going on at the Global Dialogue Center related to John Perkins' message and influence around the world. We invite you to get informed, join the conversation, communicate with John Perkins and get involved in being a catalyst for change where you are!
What's NEW?

The Lastest John Perkins Schedule and News

John Perkins' Newsletter link

JP on Facebook

Our GEO-POLITICAL CRISIS with John Perkins

Book Options, Interviews and Reviews

John Perkins' Video Message to YOU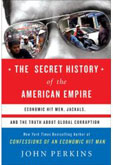 A Bestseller at #22 in the first week on sale!
Also, previous Confessions hit the list at #26 in the same week.
The Secret History of the American Empire: Economic Hit Men, Jackals, and the Truth about Global Corruption
"A sweeping, bold assault on the tyranny of corporate globalization, full of drama and adventure, with devastating stories of greed run wild, but Perkins is undaunted, and offers imaginative ideas for a different world."

-- Howard Zinn, author
A People's History of the United States and
A Power Goverments Cannot Suppress NEW 2007

John Perkin's new book is both an eye-opening expose of global corruption and a fascinating story of adventure and intrigue. This devastating indictment of current economic policies also offers hope by showing the power of the growing movement toward a caring economics worldwide.
-- Riane Eisler, author
Chalice and The Blade and
The Real Wealth of Nations NEW 2007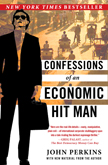 Confessions of an
Economic Hit Man
Paperback with new material
Publisher: Plume

"We can change things, but what has to happen first is a redefinition of this dream of ours... We must have a change of consciousness from the grassroots. We can change our attitude, our way of living and our way of relating to each other and to the environment."
-- John Perkins, Off the Edge business magazine, Malaysia




See article on John Perkins...
"Confessing to the Converted," with photos.


Our GEO-Political Crisis and YOU
with John Perkins, New York Times Bestselling Author
A groundbreaking primer to current events in the world and his new book; includes moments of insight from his personal journey since writing Confessions, lessons learned from every region of the world and ideas about how we can change the world right where we are. Six episodes to share with family and friends.
Conversation with John Perkins - Global Dialogue Center Exclusive!
John Perkins joins Debbe Kennedy, founder of the Global Dialogue Center and three members of the Global Dialogue Center community for an intimate and personal conversation. John opens up to talk candidly about the story behind the book, his journey since his book was originally published, and also answers the provocative questions that emerged during the time we shared with him.
Listen now (56 min.)

Global Dialogue Center Community members joining in the conversaton with John Perkins:
Jan Coleman, investment banker for sustainable/green projects and Moderator, 24seven Conversations
Oguchi Nkwocha, M.D., Igbo visionary from Biafra/south-eastern Nigeria
JoshuaPeaceSeeker Hughes, peacemaker, bio-diesel pioneer
Debbe Kennedy, founder, Global Dialogue Center (Host)



John Perkins' Confessions... BLOG at the Global Dialogue Center
John Perkins talks with all of us regularly, sharing his personal writings, current affairs commentary and answering your questions. Join in the conversation...
Visit John Perkins Blog: www.globaldialoguecenter.blogs.com/johnperkins