Women in the Lead presents...
WOMEN DOING INTERESTING THINGS with Debbe Kennedy, Host
…an ongoing series conversations with women rising up to pursue work they love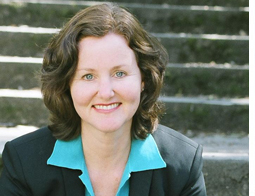 Diversity Mosaic:
Interview with author Tina Rasmussen
In this personal interview, Tina Rasmussen talked about the challenges she sees in today's workplace, the personal motivation behind her work and her new book and set of tools designed to support establishing a successful diversity initiative.

Listen Now (31 min., 18MB, MP3)
Also available at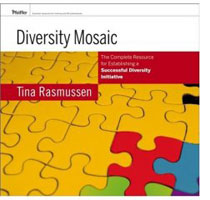 Diversity Mosaic:
The Complete Resource for Establishing a Successful Diversity Initiative
(November 2006, Jossey-Bass / Pfeiffer)
Facilitator Guide (400-page loose-leaf binder)
Participant Workbook (80 pages)

Diversity Mosaic takes inclusion beyond the "quick fixes" of hiring and training, to addressing organizational culture issues in order to create lasting large-scale change. It describes the concrete and understandable six-step organizational change process that Dr. Rasmussen has personally taught to hundreds of diversity champions. The book walks you through each step of the Diversity Enhancement Process, providing fully reproducible tools, assessments, and handouts (as well as a CD) that you can customize to address your organization's unique situation and needs. From creating a partnership between the various champions (CEOs, change agents, leaders, diversity team members, and board members), to conducting assessments, to "converting" resistors, all aspects of this complex yet achievable process are outlined.

Built upon five "key cornerstones" that fit together like puzzle pieces, this book will help you to spark paradigm shifts that move people beyond thinking of diversity as Affirmative Action, to seeing it as a must for long-term organizational viability. The Becoming a Diversity Champion chapter helps people prepare for the demanding yet rewarding role of stewarding an initiative of this intensity and depth and includes 360 degree feedback instruments.

The complete ring-bound facilitator's guide also includes two complete workshops: one for all employees and one specifically designed for leaders. Samples of the 40-page companion Participant Workbooks (including 360 degree assessments) on Developing Cultural Competence and Leading Diversity are provided with the facilitator's guide.

This resource builds upon and compliments Dr. Rasmussen's previous work, Diversity: The ASTD Trainer's SourceBook, which has been used by thousands of diversity change agents worldwide. It is an essential for anyone responsible for diversity and inclusion within their organization.


About Tina Rasmussen

Diversity Mosaic founder Tina Rasmussen, Ph.D., has worked for more than 20 years as an author, consultant, teacher and coach who helps people live their highest values and aspirations to create healthy, thriving organizations. Her clients range from small non-profits to some of the world's largest organizations, including the Fortune 100's Levi Strauss and Nestle Foods, and America's largest human service non-profit, the YMCA. Diversity efforts she has helped to steward have spanned multi-year initiatives affecting tens of thousands of employees and millions of customers. She has coached CEOs, lead diversity teams, and conducted training for all types of groups from boards of directors to shop floor employees. She has also provided shadow consulting to diversity champions and change agents in establishing their own initiatives.
Diversity Mosaic: The Complete Resource for Establishing a Successful Diversity Initiative (Jossey-Bass 2006), Diversity: The ASTD Trainer's SourceBook (McGraw-Hill 1996), and Organizational Integrity (UMI, 1998) -- and has contributed to four anthologies with thought leaders such Warren Bennis, Peter Senge, and Margaret Wheatley.
Dr. Rasmussen completed her Ph.D. at the Fielding Institute on what helps organization "walk the talk" of their values. She has guest lectured at the Stanford University Graduate School of Business MBA Program, and has been a speaker at conferences for national organizations such as The Conference Board, The American Society of Training and Development, the OD Network, Business for Social Responsibility, and the Greenleaf Center for Servant Leadership. She has also appeared on television and is listed in Who's Who of International Women.
Visit Tina Rasmassen's website