Saving the Horses; Following Your Heart
The Personal Story of Karen Pomroy

Founder, Equine Voices Rescue & Sanctuary
---

Take a Self-Guided Tour: Click on the arrows on the right above.
This special exhibit, showcasing the work and passions of Karen Pomroy's mission to save the horses and be an advocate for women's health, draws on three compelling calls-to-action for us all:
The call to be a leader in your own right, serving others.
The call to pay attention and get informed about critical issues of women's health.
The call to follow one's heart.
Saving the Horses; Following Your Heart provides moving perspective about the crisis of Premarin for women and for horses and three valuable women's health resources shown below.
Read the Message from the Spirit of the Horse [PDF] --- poem by Linda Tellington-Jones (complete text)

---

Listen to a 3-Part Audio Podcast

Karen Pomroy joins Debbe Kennedy, Founder of the Global Dialogue Center and Women in the Lead, for an intimate conversation about her life, the journey to her calling, the Premarin crisis and an inspiring look at what it means to follow your heart.

PART 1: Saving the Horses (13:01, 6MB) ... the early beginnings

PART 2: The Premarin Crisis for Women and Horses (15:43, 7.26MB)

Part 3: The Courage to Follow Your Heart (11:15, 9MB)

---

Learn more and support saving the horses
Visit Equine Voices Rescue & Sanctuary @ Jumpin' Jack Ranch
---

Three Valuable Women's Health Resources
Learn more about the National Women's Health Network
A voice for women, a network for change for over 30 years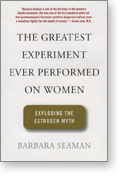 Must read book: The Greatest Experiment Ever Performed on Women :
Exploding the Estrogen Myth by Barbara Seaman (Hyperion 2003)

Women's Health Initiative
15-year research program to address the most common causes of death, disability and poor quality of life in postmenopausal women -- cardiovascular disease, cancer, and osteoporosis.