Getting to the Better Future: An Interview with John Renesch
It seems that in almost any direction, we are challenged at this time in history by figuring out how to create a better future.

In this audio podcast interview John Renesch, author of: Getting to the Better Future: A Matter of Conscience Choosing;How business can lead the way to new possibilities, offers a thought-provoking, inspiring perspective.

Listen to podcast (16MB)

Also available at

Join the conversation: John Renesch: Exploring the Better Future BLOG
About the author
John Renesch is a San Francisco businessman-turned-futurist. His background includes over thirty years experience as a business owner, CEO and Managing Director. He subsequently edited a series of forward-thinking business anthologies that included the original writings of over 300 visionaries from industry, business academia and the professional communities. His latest book is Getting to the Better Future: A Matter of Conscious Choosing. In addition to his writings, John is also an international keynote speaker and is available for groups of all sizes. He also offers executive coaching services and sometimes subcontracts to organization consultants.
He's received praise as a business/social seer. Warren Bennis, best-selling author of leadership books for a couple of generations, calls John "a wise elder who shines with wisdom." Stanford School of Business Professor Emeritus Michael Ray calls him "a beacon lighting the way to a new paradigm." The Futurist magazine calls John a "business visionary."
---

Collections and Special Events

Moments of Insights COLLECTION
at the Global Dialogue Center
THE BETTER FUTURE
with John Renesch, futurist and author,
Getting to the Better Future: A Matter of Conscious Choosing
In this new GDC exclusive learning-on-the-go audio series, furturist, John Renesch explores moments of insight about how business, organizations and individuals can lead the way to new possibilities and a better future. Six mini-podcasts. Learn more.


HRPAO Human Resources Professionals Assn of Ontario
2007 Annual Conference - Toronto Convention Centre

John Renesch shared his Breathing Consciousness into Your Organization message in a morning session in Toronto, discussing how human consciousness doesn't thrive in an bureaucracy. It stifles the spirit. He contends that bringing consciousness into these organizations wakes people up. Learn more
---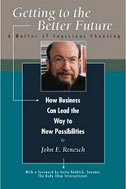 Visit John Renesch websites:

www.GettingtotheBetterFuture.com

---
Other John Renesch contributions at the Global Dialogue Center...

John served as co-host for the grounding-breaking Berrett-Koehler CURRENTS Authors' Dialogue on PERSONAL RESPONSILITY: It's Role in Creating a Better World. Listen and view this timely dialogue and call-to-action.
Listen Now.

John Renesch was one of five distinguished keynote speakers that gathered for a personal dialogue on Corporate Social Responsibility and Socially Responsible Investing.
Learn more and listen now.