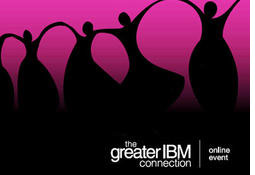 Learning From One Another's Role Models
A Greater IBM Global Women's Gathering

There is something about GATHERING that matters. People like it, especially when it is genuine.
It was especially meaningful on October 23, when Greater IBM women (and men) came together to put the spotlight on "Learning from Each Other's Role Models". The event was sponsored by the Greater IBM Women's International Network for Leadership (GIBM WIN-L) and was held online at our Global Dialogue Center CONFERENCE Center. Listen in to the recorded program below.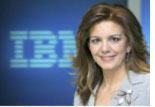 Amparo Moraleda, IBM President of Spain, Portugal, Greece, Israel, and Turkey was a "bright light" for us all. She sat with us in our "virtual living room" for the first hour and answered our many questions about her leadership journey, her life and work demands, and offered many powerful ideas for us to take away as a personal gift. People called it "intimate" "personal" and "close". She is a remarkable role model for us all.
Debbe Kennedy, Greater IBMer and founder of the Global Dialogue Center and author, Putting Our Differences to Work, produced the event with five distinguished Greater IBMers from around the world: Nuria Carretero (Spain), Cécile Demailly (France), Linda Griffin, founder, A Clear Wind LLC (Virginia-US), Gagan Rudra (Canada), and Shara Sokol, founder, s2 Creative Communications (New York). We all met each other at the Greater IBM Connection --- we've never physically met, but our months of virtual collaboration across the world has in itself been a great JOY!
A very special feature was having Nancy Marguiles, well known as the "godmother of graphic recording" join us to do real-time illustration of all we were hearing and learning together. Her unique artistry was a big hit at our first event and by popular demand, she generously showed up to support this "BIG DREAM" that emerged from GIBM women worldwide.

GIBM Women's Global Gathering - Recorded Programs
We invite you to enjoy the recorded audio/visual experience:

Part 1: Opening and Interview with Amparo Moraleda
Part 2: Our Dialogue: Role Models, Stories, Lessons and Reflections
TWO OPPORTUNITIES TO GET INVOLVED...