Online Dialogues
at the Global Dialogue Center
INNOVATING with MEANING
Rediscovering the Soul of Authentic Leadership | The OPA! Way®
with Alex Pattakos, Ph.D. and Elaine Dundon, Ph.D.
Hosted by Debbe Kennedy, founder, Global Dialogue Center
Brought to you by the KNOWLEDGE GALLERY
at the Global Dialogue Center ONLINE CONFERENCE CENTER
Wednesday, NOVEMBER 9, 2011

This virtual ONLINE webinar at the Global Dialogue Center attracted over 240 people from 26 countries.

VIDEO REPLAY | To view, click on this link or the image below
NOTES: Allow a few seconds for the link to open;
Segment timings and Slideshow Summary and Handouts below.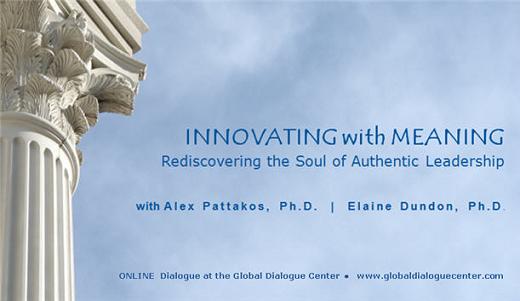 Video Replay QUICK REFERENCES:
Below are beginning times for key segments of our global conversation:

00:00
Introduction and Welcome
04:53
INNOVATING with Meaning | Rediscovering the Soul of Authentic Leadership
Alex Pattakos, Ph.D. and Elaine Dundon, Ph.D. seed the dialogue
Hosted by Debbe Kennedy, author and founder, Global Dialogue Center
-- 04:53 - INTRODUCTION | The 3 C's
-- 07:00 - INNOVATION | context and key learnings
-- 14:15 - MEANING | context and key learings
-- 25:20 - Journey to Greece | Rediscovering the Soul of Authentic Leadership
-- 38:06 - Responses to Participant QUESTIONS
-- 64:00 - Resources to Expand Your Learning
-- 68:33 - Closing Thoughts
70:45
Informal Dialogue with Participants
Participants from US, Germany, and South Africa
take the microphone to ask questions; others submitted write-in questions
on our virtual walls.
99:00
The FINAL WORD


SLIDESHOW SUMMARY and HANDOUTS
All documents are in pdf format

Learn more about Dr. Alex Pattakos and Dr. Elaine Dundon ...

The OPA! Way
website...

www.theopaway.com

Prisoners of Our Thoughts
Viktor Frankl Principles for
Discovering Meaning in Work and Life
by Alex Pattakos, Ph.D.

Seeds of Innovation
Cultivating the Synergy that Foster New Ideas
by Elaine Dundon, Ph.D.
Brought to you by the Global Dialogue Center ONLINE CONFERENCE CENTER