Welcome to the Virtual Office of Debbe Kennedy
Welcome to my virtual office at the Global Dialogue Center. This is a gateway to my own work and writing with highlighted resources that have emerged from our Global Dialogue Center community. Also, I work out of my Virtual Office at our GDC Online Conference Center.

See my message about the Global Dialogue Center

You can also follow me on Twitter @debbekennedy and also @onlinedialogues
My Book! Putting Our Differences to Work:
The Fastest Way to Innovation, Leadership, and High Performance
This book has many fingerprints from our Global Dialogue Center Community all over it, including inspiring stories from people who prove its premise. It is both a personal and practical guide for the leader in all of us. See Reader Reviews from around the world.

Included are:

five distinctive qualities of leadership to add to what you already know
a step by step action process
best practices stories and tools
timeless thought leader insights

Related resources
"Debbe teaches us how diversity accelerates innovation to everyone's advantage. This is a win-win-win book in which you and your people win, your organization wins, and the world wins."
--Joel A. Barker, futurist, filmmaker and author; from the foreword

" ...diversity, broadly understood, is so essential to innovation and progress – as Debbe Kennedy reminds us in this pragmatic and wise guide for leaders."
-- Mike Wing, Vice President, Strategic Communications, IBM

"Rarely has there been a more relevant, more needed guidebook for leaders of the future than Putting Our Differences to Work."
-- Frances Hesselbein, Chairman and Founding President, Leader to Leader Institute; Former CEO, Girl Scouts of America

More reviews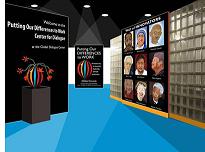 Join me for our Online Dialogues...
To support readers of the book in their important work, I host online dialogues and maintain a library of recorded programs.

These dialogues are designed to talk about your questions and explore timely topics related to mastering the art of putting our differences to work, including our Innovating in Hard Times Series.
See schedule and sign-up to be invited.